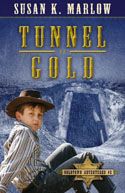 Yay for book reviews! I especially love books that target the tween/preteen set. I suppose that is probably because my girls are right in that age range, and I like to stay on top of their reading material. And who's kidding who, I just enjoy children's books :)
I'm very familiar with author
Susan K. Marlow
, and I'll say upfront that I am a very big fan! Our family has thoroughly enjoyed many of her other stories, especially
Circle C Beginnings
. So, I was very happy to say the least, to review the second book in her latest series, Goldtown Adventures -
Tunnel of Gold
.
Now for the storyline. Jem (short for Jeremiah) is busy trying to earn some money with his firewood business, when he, his cousin Nathan, and his little sister Ellie get caught up in a riot near the town's gold mine. Jem gets hurt and his Pa, who also happens to be the town sheriff come to their rescue. They soon find out about the dire situation facing the town. The mine has run out of gold. There is a way to possibly get it going again by blasting it to create a new vein. But if they do that, they will have to have the use of another mine close by to provide an air shaft.
That creates problems though, as Chinese miners (including a friend of Jem's) have claimed the mine, and they do not want to leave it.
The situation escalates, and Pa may lose his job as sheriff. Then it appears as if there may be a solution, but it may cause more damage than help. The question is, what will Jem do? I hope that's enough to whet your appetite. I don't want to give it all away, otherwise there would be little reason for you to read the book!
Our summer school schedule is lighter, and we chose to use this book as a general read aloud. The main characters are boys, but this is a book that will appeal to both girls and boys, as my own daughters will attest. It has two main components that the girls enjoy, history, and adventure! We read a couple of chapters a day, but there was more than one occasion where I found myself reading ahead because I just got caught up in the story :)
And just when it couldn't get any better, the author has very generously provided an enrichment guide to use along with this book, as she has with her other books. Even better, the guide is FREE! Really, it's a unit study to complete with the story. It's a generous guide too. We're not talking a few pages, it's a pretty thick booklet filled with vocabulary, time lines, science and cooking projects, little history lessons . . .
I love this so much!
The girls love reading and books, and this was a hit. It is the second in the series, and we cannot wait to go back and read the first, but it was no problem starting where we did. The suggested age is for 9-13 year olds, but we also included our almost 8 year old, and she enjoyed it too. I cannot say enough wonderful things about this book, the author, or her other series. She definitely goes above and beyond what a reader would expect, and I recommend this and the others wholeheartedly. Please check out the website, take a peek at the study guides, and see what the fuss is about. I bet you'll love them too.

Susan K. Marlow and Kregel Publications
Tunnel of Gold
Ages:
9-13 years old
Price:
$7.99 + $2.50 S&H
Our Crew members also reviewed the first book in this series,
Badge of Honor
.
Click to
read these reviews
from the Schoolhouse Review Crew.