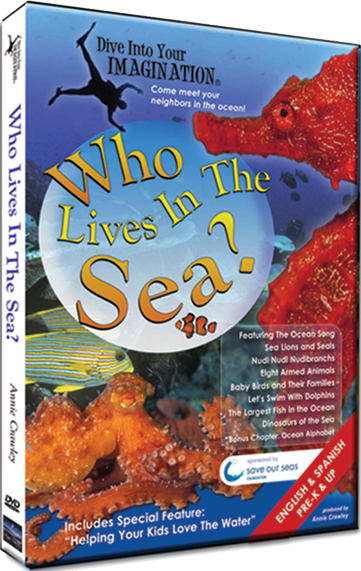 The current school year is quickly coming to a close for many homeschooling (and non homeschooling) families. Many of you are probably in the process of putting together your curriculum for next year. If that's the case for you, or even if you have it all selected, I have a terrific DVD series that our family has enjoyed a lot.
Creator Annie Crawley - a.k.a. "Ocean Annie", is an underwater photographer, dive instructor, and boat captain. Having fallen in love with the ocean and its many wonders, she now seeks to share her love with as many people as possible.
We had the privilege of receiving "Who Lives In The Sea?" for review. The DVD allows you to watch the entire program from start to finish, or select from the chapters, which include:
1.) Let's Go Swim With The Dolphins
2.) Playtime With Sea Lions
3.) Baby Birds And Their Families
4.) Dinosaurs Of The Sea: Marine Reptiles
5.) Eight Armed Animals
6.) Living Forever UnderThe Sea
7.) Nudi, Nudi, Nudibranchs
8.) Whale Sharks: World's Biggest Fish!
BONUS CHAPTER: The Ocean Alphabet
With images that easily rival those of National Geographic and/or The Discovery Channel, this DVD draws the viewer right in to the glorious world of the ocean. My daughters were glued to the screen as we enjoyed not only the awesome and amazing information we learned, but the music as well. Enjoy a sample here:
As well as including options for listening to the narration in several languages, this DVD also allows you to select a music only feature.
In addition to the regular chapters there are also sections to meet Annie as well as Craig, who developed the music for this series. You'll also find a section on helping your kids love the water and overcome any fears they may have of it.,
As part of our review, we were delighted to also receive pdf downloads of study guides to go along with this DVD.
Using the guide for 1st - 3rd grade, it offers a large variety of activities to enhance the learning experience.
The guide corresponds with each chapter of the DVD, and provides discussion questions, vocabulary words, learning center ideas, book lists and more to stretch the lessons as you desire.
***The guides are available as a printed version for $299 -for the whole set - or as individual PDFs for $69.95. Annie Crawley of Dive Into Your Imagination will gift you a set of PDFs with purchase of the DVDs. When you place your DVD order, just let her know in the notes that you are a Homeschool Parent.***
For the months of May and June, there will be free shiping placed at
www.AnnieCrawley.com/store
Our family loved this DVD and would love to add the others to our personal collection. Appropriate for the whole family, this is a resource worth checking out.
See what other crewmates had to say about this and other titles in the series at
http://www.linkytools.com/wordpress_list.aspx?id=145369&type=thumbnail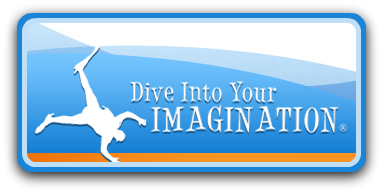 Dive Into Your Imagination
Who Lives In The Sea?
www.DiveIntoYourImagination.com
Price: $19.95
Ages: 3-8 years
*Disclaimer - I received a free copy of the DVD Who Lives In The Sea? and the accompanying pdf guides in exchange for my honest review, with no additional compensation.