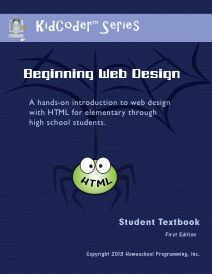 I can get around the Web pretty well I think. It's taken some trial and error, but I've learned a lot, although there is still much that I have yet to understand. So for me, the idea of teaching my daughters a course on the subject is about enough to put me in a cold sweat. Still, you need to face your fears, and I had an opportunity to do so with the review of
Kid Coder Web Series
- Beginning Web Design brought to us by
Homeschool Programming
.
This computer program is pretty new, just put out in May 2013 in fact. It will teach your students the basics of HTML, XHTML, and CSS. And fortunately for folks like me, it does not require vast prior knowledge of the subject. The manuals and videos lay everything out for you.
It works with both Windows and Mac, and there are visuals showing what you will or should see on your computer screen as you navigate through the lessons.
The recommended age range for this particular program is 4th-12th grades. That's a pretty broad range. I've been working through this with my oldest, who is 9 years old, and will be beginning 4th grade this fall. So, she's on the very young side of the spectrum. As such, this is not a program that she has been able to complete independently. I need to be right there with her with each lesson. That's been just fine. There is so much information in this program, and I find myself reading and rereading various sections to make sure that I get it, so I can actually be a help to my daughter.
Honestly, I'm not sure exactly how much she is retaining simply because she is younger, but I don't want to underestimate her abilities. And really, with all of the emphasis on computer technology all around us, you probably can't begin too young. This is a great resource that is giving her a solid foundation in the subject.
It should be mentioned that some basic computer knowledge is necessary to begin this course. Using the keyboard, mouse, running applications. My daughter has some of these, but again, this is an area where she still needs assistance.
The program is meant to be completed over a semester. So you average about a chapter a week.
Our textbook, as it were, was given to us as a PDF, (234 pages to be exact) so we read it off of the computer. That worked out fine, and although the lessons are aimed at students, I quite enjoyed them. Very helpful, are the many illustrations, because I know my daughter would get lost pretty quickly without the visual. That probably goes for me as well.
There are 4 lessons per chapter, including a problem solving section , just in case you encounter any issues in your web work. The chapter ends with a quick review, and then a fun activity to complete.
Sometimes when I review a resource, I find that it wasn't anything that I expected it to be. Such has been the case here. While I definitely had an interest in this program, I figured that it would be dry, tedious, and a subject that I would have to drag my child over to the computer to do. I could not have been more mistaken. While I would still say that my 9 year old could probably have waited a few more years to begin this, it's a great computer program. The text is easy to read, not the stuffy, traditional textbook kind of format. The illustrations are helpful, and everything is laid out step by step.
I would not have thought that I would look forward to this subject that I've kind of feared.
I would very enthusiastically recommend this program to any family who wants to add the subject to their curriculum, or even to learn a little more about the process themselves. Really really good stuff.
Kid Coder Web Series
Ages:
4th -12th Grades
Price:
Kid Coder: Beginning Web Design -
Course only
- $70.00
Kid Coder: Beginning Web Design -
Course and Video
- $85.00
*available early August*
Kid Coder: Beginning Web Design -
Video only
- $20.00
*available early August*
This was just one in a series that the crew reviewed. There are other programs for teens as well. Interested?
Click to
read more reviews
from the Schoolhouse Review Crew.