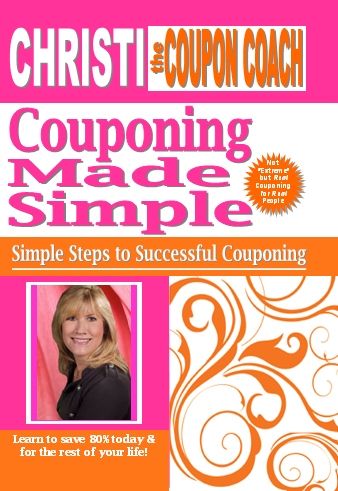 I've said many times that book reviews are some of my favorite posts to write. This month, I had the opportunity to review one by
Christi the Coupon Coach
. I bet you've already guessed that this is a book about. . . couponing! And you are correct. I received a copy of
Couponing Made Simple
-Simple Steps to Successful Couponing to read and try out.
Initially, I figured this would be a book about extreme couponing, and I was not exactly super excited to begin. But you know what they say about not judging a book by its cover, right? So I pushed aside any skeptical thoughts and began to read.
There are 123 pages of text, with several lined pages following for notes and such, and it is a very quick and easy read. The print is large, and a lot of the pages include photos and side notes. I actually read it through in about an hour's time. I went back over it to get a more in depth look, and then continued to reference it at different times as I learned how to implement author Christi Bassford's suggested methods.
What jumped out at me was the author's enthusiasm. She has found a great way to drastically save on her family's grocery bill, and she really wants to share it with her audience. I really liked that, and I found that attitude increasing my enthusiasm to try this out myself too.
First of all, you'll need to have a coupon storage plan. Christi talks about her own, which consists of:
1.) Hanging File Coupon Box
2.) Shopping Coupon Box
3.) Accordion Coupon File
4.) Computers
5.) Printer
These will allow you to store coupons for long term as you first cut them out, have them organized when you bring them on your shopping trip, and of course how you'll find online coupon sites and print them.
The two main rules of couponing according to the book, are:
1.) Buy on Sale
&
2.) Stack Coupons
She gives example after example illustrating these points, and her results are impressive.
Christi states that this is not extreme couponing, but real couponing for real people, and now that I've read her book, I do agree with that. I will say however, that it does take a bit of organization and work to get set up. She suggests purchasing at least one newspaper per person in the house, and for us, that was a bit much. We subscribe to two papers, and that was what we used. Also suggested is to involve the family in the coupon searching, and clipping, and that actually proved a bit difficult for us. One very major reason is the extremely active toddler we have roaming the house. She is into ten different things at once, and so attempting coupon prep during her waking hours is next to impossible. Her sleeping time is when I need to catch up on other work, and so, at least for this season in our lives, that part of the prep is a challenge to efficiently complete.
It's also tricky to bring along two coupon boxes and find a place to keep it away from that little toddler's busy hands as we shop. Our schedule typically requires me to bring the kids with me, sooo, once again, tricky.
I have had nowhere near the savings that Christi has had. However, I'm visiting the online coupon sites more, and paying close attention to the sales, and planning meals and then the subsequent shopping trips around those sales, rather than vice versa, which is saving money.
Overall, while I have not jumped in completely with the couponing, I have been inspired by this book to carve out some time to clip a little more, and see where I can save on our family's grocery bill. I think it's worth the time to read it for sure.
Some final thoughts. . .
Included in the book are sections related to couponing with integrity and not trying to cheat the system. The author also includes a chapter on the great finds available at yard sales and thrift stores. Now these are two areas that have helped us out well.
She also takes the time at the end to share her faith, and offers the steps to accept Jesus. I really like that a lot!
Happy shopping!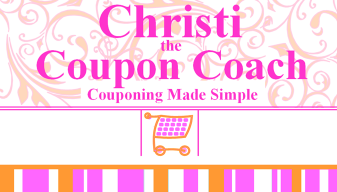 Christi the Coupon Coach
Couponing Made Simple
Price:
$18.00 on Amazon
http://www.amazon.com/Christi-Coupon-Coach-Couponing-Successful/dp/1456589296
Click to
read more reviews
from the Schoolhouse Review Crew