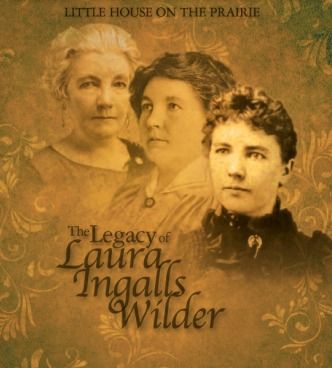 Oh, did I jump at the chance to review the DVD
Little House on the Prairie: The Legacy of Laura Ingalls Wilder
this past month. TOS Crew members were offered this as well as another title from
Legacy Documentaries
,
Almanzo Wilder: Life Before Laura
.
If you're a fan of the beloved T.V. series
Little House on the Prairie
, you'll recognize the name Dean Butler. He played the role of Laura Ingalls' love interest (and later husband), Almanzo Wilder. And he is also executive producer for this company that has put together some wonderful documentaries.
Honestly, there is not a week that goes by when I don't catch an episode or two of that wonderful show,
Little House
, so I was really looking forward to seeing this.
Upon receiving this little gem, I had decided to enjoy a quiet preview by myself before including the family. I had barely begun watching when I found myself surrounded by curious children. They were quickly drawn in, asking questions, comparing what they knew from the T.V. show versus the real life of Laura Ingalls Wilder. It was fun!
I'm the type of person who enjoys documentaries anyway, but I will admit that many can be dry and well, boring. This is not that kind of documentary at all. It has a really nice blend of narration, interviews, illustrations, historical reenactments, and photographs.
I know that for me it helped that I came to this with a positive attitude, so I was expecting it to be good, but it really and truly is!
I was familiar with some of the history of Laura Ingalls Wilder, but this filled in the missing blanks. We all know that television can portray events in an idealistic way.
Little House on the Prairie
showed viewers an often sweet picture of that time period. But certainly the true life story of this remarkable woman was filled with its share of hardship and struggle. The series shows beautiful landscapes of the prairie, clear water, a cozy cabin, and home-cooked meals. What we don't see is the tall grass filled with snakes and bugs, dirt floors, the struggle to keep food on the table through ruined crops, harsh weather, very little money, and so on.
There was a part of me that was discouraged at such a difficult life, which included the death of her infant son, a less than harmonious relationship with her daughter, Rose, and the general struggle to keep their livelihood afloat.
On the other hand, what an amazing testimony to the resiliency of that generation! It made me reflect on my pampered life, and the ridiculous things that I allow to send me into a frenzy. She was an example of making the best of what one had, and always getting back up when life knocks you down.
I don't mean to be dramatic, but they had what we would consider to be nothing, and yet in many ways, they had much more than we do today.
This DVD is roughly an hour, and also includes a little bit of bonus footage, including some behind the scene footage and a chat with Dean Butler. There are also trailers for a couple of other videos put out by Legacy Documentaries. It was a lovely and nostalgic treat to watch, even if I did find myself near tears more than once! I think I need to grab a copy of the Almanzo DVD as well. It's also definitely time to re visit those beloved books, and add them to the family read aloud rotation.
This is a great resource whether you want an accompaniment to a history lesson, or just a good, family friendly documentary to enjoy. We need more videos like these! Check them out by clicking on the links below.

Legacy Documentaries
Little House On The Prairie: The Legacy of Laura Ingalls Wilder
-
$24.95
Almanzo Wilder: Life Before Laura
-
$21.95
Ages: Elementary grades and up
Click to read more reviews
about this DVD as well as Almanzo Wilder: Life Before Laura.