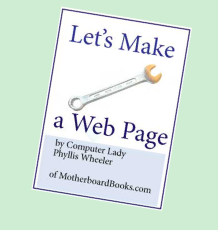 I have really never been a tech savvy kind of person. It took me longer than most to get into and become comfortable with fiddling around on the computer. Just becoming a blogger was a huge leap for me, and I've learned a lot over the past couple of years, but I still admit that computer issues can send me into fits of anxiety in an unbelievable amount of time. I'm sure that I don't need to tell you that in this day and age it's necessary to have at least some computer skills. Everything is online now, from shopping to paying bills. Even the schoolwork of my children requires computer skills, and Internet access. So I decided to get on board, and jump in and figure this stuff out.
Fortunately for me, I had this handy
review
come my way. I received an e-book called
Let's Make a Web Page
put together by
The Computer Lady,
aka Phyllis Wheeler from
Motherboard Books
.
This e-book is meant to be used with children 8 yrs. and up, and the goal, as the title invites, is to make a Web Page. The idea initially made me a little nervous, as I wasn't sure how I could figure this out for myself, let alone teach my tweens the process. So the first thing that I did was print out the book to make a physical copy that I could easily flip through as we figured this stuff out.
Okay, that was easy, and I felt confident with my fresh and crisp manual. (Breathe in, breathe out, I can do this.)
After the Table of Contents, I read through the parent introduction. To get started, you download a free trial period of a software called CoffeeCup. (It's compatible with current Windows software) They offer suggestions in assisting your child through the process, and steps to take to protect your child while they are online.
The pages and wording are laid out in away that is easy for an 8 yr. old child to read and/or follow along with as they go. There are 9 lessons to go through:
1.) An Interview
2.) Download and Set Up the Program
3.) Add Text
4.) Add Photo
5.) There's a typo here, no lesson 5, it jumps from lesson 5 to lesson 6
6.) From the Internet, Add Animations
7.) Browser Check, Backgrounds, Photos
8.) Sound
9.) Links
10.)Post Your Work
I like that this has plenty of photos in it to help provide direction. And, seeing that it's meant for students as young as 8 yrs., I think that it helps keep their interest. The directions are clear and easy to follow, so a child on the higher end of the range would likely have very few problems getting a page set up. My kids happen to be on the younger side, so they still need a lot more assistance. Some of the information is still a bit tricky for them to grasp, but it's cool to see their confidence grow as they progress through the steps. My confidence has gotten a little boost too, if the truth be told.
The last few pages instruct in uploading your content to the Internet, and Troubleshooting.
As I have already said, I like the layout, and it's pretty easy to present to students. We've had to have a bigger presence in teaching this to the girls, but an older child will probably have few issues, and could probably complete this independently. I think if there's anything to mention on the con side, it would have to do with the CoffeeCup software. It can be tricky to access, and it is just a trial, so if you want to continue with it, you'll need to purchase the regular software. For what it is, it's pretty good, and worth checking out.

Motherboard Books
Let's Make a Web Page
Ages: 8 yrs. and up
Price: $19.95
Click to read more reviews
from the Schoolhouse Review Crew.