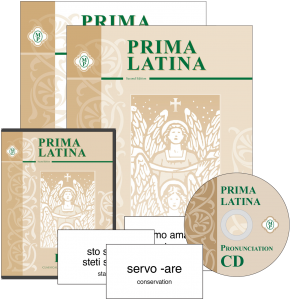 Summertime, summertime. Chances are you have wrapped up your school year, but if you're a homeschool family, I wouldn't be surprised at all if you were already getting your fall curriculum in order. So, let's talk about Latin lessons. Before I had even heard of
Memoria Press
, I had a certain image of Latin. Very stuffy, very rigid, you know, dry. And then, I was chosen to review
Prima Latina
. Wow, has my view of this subject changed. I'm pretty excited about this language curriculum, so let me tell you a little about it.
We received a complete Latin curriculum package for younger students, ages 2- 4 grade. Included in this set is the teacher manual, student workbook, pronunciation CD, DVD set, and flashcards. Wow. We got it all.
When our package first arrived, I did what I always do, read through the teacher manual, looked over the other materials, just got familiar with everything. I discovered quickly that this was going to be a great program, and before I even started with the girls, ordered a second student workbook so both kids could work through this.
So away we went. The best thing for me right off is that this preparatory course has been created for teachers (like me) who do not have experience in Latin. It is the precursor to this company's
Latina Christiana
course. It's meant to be used with children who are reading well, but still getting the basics of English grammar down. It provides a good foundation of Latin vocabulary and grammar, and takes material right from the next level, so the transition up should be easy.
The year is divided into 25 lessons. Each features 5 vocabulary words, grammar, a sentence in Latin and then a line of a prayer. By the end of the year, students will learn an entire Latin prayer. How cool is that! There are reviews and tests within the book as well.
I was grateful to find a very helpful overview for the teacher at the beginning. It goes over some of the basic Latin language and grammar rules. I also like that there is a page of student goals, and what they will learn. The student workbook also contains this information.
Now, what a typical lesson looks like. We start off with a DVD lesson. These are not too long, maybe 15 minutes, and the teacher is pleasant. She is as personable as you can get for a DVD , playing little games to help remember the material. Have the student workbook handy, because that is where the teaching comes from, pretty much word for word. She covers the main daily lesson, vocabulary, a line of a Latin prayer, and goes over English words that have their derivatives in Latin. At that point, you move on to the workbook on your own, where your student will complete the exercises. There are questions, words to translate, pronunciation exercises, and a few written activities. You'll also have the pronunciation CD, so you can be sure you're pronouncing everything correctly.
And let's not forget about the flashcards. Those are included too you know. We use these either before or after our lesson as a review. I wouldn't say that in certain subjects that use flashcards, that I've always used them consistently. With this course however, I really like the visual for my kids, and myself. I like to have the word right there where everyone is reminded of the correct spelling, which helps us remember the pronunciation as well.
We work on Latin approximately 4 times per week, and I would say that it's going quite well. As the teacher, I love it! My oldest is kind of in a place where she 's generally not terribly excited about school in general, but she's doing well. Now, my youngest, is really liking this program a lot! We were barely through the first lesson when she began thinking about all kinds of words that have their derivative in Latin. Her excitement is contagious! The plan is to go through the remainder of the year with this level, and keep moving up.
I wouldn't say never, but I didn't necessarily picture Latin as being a subject that I would get excited about, or my children for that matter. But this curriculum demonstrates what a good program can inspire your students to enjoy and excel in. Please check them out!
Memoria Press
Prima Latina
Ages:
Grades 2-4
Price:
$90.90
for Complete Set - Includes: *Student Book
*Teacher Manual
*Pronunciation CD
*Instructional DVDs
*Flashcards
Other Crew members reviewed this, as well as other titles.
Click to read more reviews
from the Schoolhouse Review Crew.