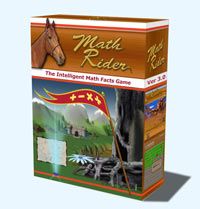 "I love math!", has not been a phrase typically heard in our home, that is, until we began reviewing this cool online math program.
Math Rider is an
intelligent math game
designed to master the four basic operations (those would be addition, subtraction, multiplication, and division ;) ) in a fun, kid pleasing manner. Your interest is piqued now, isn't it? Well read on friend :)
I knew that this math resource had at least a decent chance of engaging my oldest in particular, when I saw that the game features horses, enchanted lands, and noble quests.
Let's talk about how it works...
You may set up a "rider" for each of your children, so they can begin tracking their individual progress.
You choose the level of difficulty- easy, medium or hard, and which math operation to work on. Now it's time to begin the quest!
Each journey has a separate storyline, and begins by narrating it to the player in a storybook fashion- we really like hearing these :) For example, the easy level has the student on a quest to find a magical flower needed to make a medicine for the mother in the story, who has a fever.
Their faithful horse Shadow will take them through many lands and over many jumps, which are completed as they successfully answer math problems. The top of the screen clearly displays the progress as they work up to set number of math facts.
When a problem is answered incorrectly, the jump is stopped and the math fact is answered correctly by a narrated voice.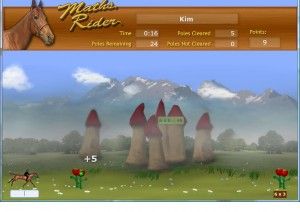 After completing the set of facts, the game pauses and gives the player opportunity to view their progress on the quest, which looks like a map, showing how far they have come, and how far they have to go. My girls loved tracking their progress this way, and it really motivated them to continue.
A feature that I like about Math Rider - there are quite a few actually- is the way it increases or decreases the pace at which the problems are given, adjusting itself according to the players' ability.
One of my daughters has a low frustration tolerance in the subject of math, and it's been a delightful surprise to see how Math Rider has increased her mastery and overall confidence in this area. I have to make her stop the program to get on with her other studies, and that's an issue I really don't mind dealing with!
In the words of my kids, "Awesome! It's so fun!" So there you have it. Visit the
Math Rider
website, and register for a free 7 day trial. You can't beat free!
Also, should you decide that this would be a great addition to your home/ homeschool, buy it now for $37.00 The price will increase to $47.00 on February 15, 2012, so lock in your sale price now.
Check out other reviews from
TOS HOMESCHOOL CREW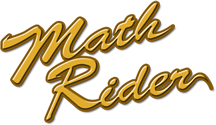 Math Rider
http://mathrider.com/
Ages:
6-12 yrs.
Price:
$37.00 Price increases to $47.00 on February 15, 2012
** I received free access to the Math Rider software in exchange for my honest opinion of it, with no additional compensation. **