I had been thinking and talking to my husband about how to better reinforce solid character qualities in our little ladies when along came this handy little resource called We Choose Virtues. I signed right up!
We received a handy dandy little pocket sized pack of virtue flash cards (think business card size) in a recloseable plastic pouch, the teacher guide, a downloadable We Choose Virtues Coloring book of all of the cute characters, a list of kids memory verses, bible heroes, and truths,and a family/character assessment.
I found the teacher guide invaluable in getting started. It provides a wonderfully full list of teaching tips, games, songs and more to get and keep your kids interested and engaged. The focus is a positive one, with each virtue beginning with the statement "I am...", perseverant, diligent, self controlled, etc. There is then a definition of the virtue, and then a few antonyms in the form of an "I am not..."sentence.
For my girlies, those alone were helpful in explaining the character traits in a fun, simple and concise manner. Each card features a cute character to correlate with the virtue like Piggy Bank Frank, Feather Heather, and Oboe Joe. The coloring book features these characters, and was an instant hit around here.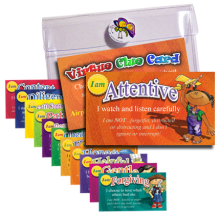 The family character assessment form is simply a way to help everyone set a personal goal and stay accountable. Use it to see where everyone is at, and where they want to go.
The kids list of bible heroes, virtues and truths is a nice little list of just what it says- a good little chart to encourage the family!
And here's something cool, the family assessment and kids list is free!
We like this product a lot. I like their catchphrase "From caterpillar to butterfly." It's all about transformation and lasting change. We found the positive approach and cutesy names and characters made remembering the principles easier. Especially appropriate for the younger set. Check it out and see what you think.
We Choose Virtues
Virtue Clue Cards
Ages: 3 -11 years
Price: $5.99
Kids of VirtueVille Coloring Book(Download only)
Price: $3.00
Teacher's Handbook
Price: from $4.99 -see website for exact pricing
**I received a free set of We Choose Virtue Clue Cards, the Kids of Virtue Ville coloring book, and Teacher Handbook in exchange for my honest opinion, with no additional compensation.**
See what my crewmates thought of this product
here