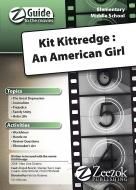 I'm pretty sure that I must have said this somewhere before, but homeschoolers have a knack for using those everyday moments and activities and turning them into school lessons.
And, the resource I'm about to tell you about has made this even better for those of us in that camp too, and when I say easier, I mean, they've essentially done all of the work for us, leaving time to fully enjoy the activities. So let's get to it right now.
Welcome to
Z-Guide to the movies
, by Zeezok publishing, which is just what the title states- a guide to the movies. There are many great titles to choose from, geared to elementary, middle, and/or highschoolers. For this review, we received
Kit Kittredge: An
American Girl
, for the elementary/middle school grades.
(Let me quickly mention that
Z-Guides
are available as a download, or as a CD. We have the download)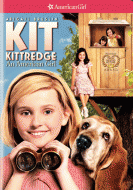 What you'll find inside:
Instructions on how to use the guide( helpful, yes? ;) ) There are 10 activities to complete over 5 days. For the first day, we looked over the basic information surrounding the time period that the movie is set in, the plot of the movie, and then watched Kit Kittredge, answering the questions for day/activity 1. I need to mention at this point that my 7 year old LOVED this part. She continually asked "What's the next question?"
The movie was barely over when my little ladies were clamoring for the next activity- researching The Great Depression. Of course, they love any excuse to get online ;) It was interesting, and a very good lesson to learn more about that time, and what people had to do to survive. Being on the younger side, I don't know how much 'stuck', but you have to start somewhere right?
For the rest of the activities, we did a little picking and choosing to suit the girls' age, and
Z-Guide
itself tells you to choose activities based on the age and interest of the child. So, while a few of the lessons were a little advanced, there were plenty left for us to use. We learned more about hobo signs and how they were used, vocabulary referring to the era, and fashion during that time period, which especially appealed to my youngest, the fashionista of the family.
The "Who Am I?" proved to be a popular guessing game with them too (I knew it would :)) They had to identify characters based on the given descriptions. Oh, they do love their games!
One of the things I love about my daughters- and I'm not bragging, honestly I'm not- is their automatic acceptance of everyone, no matter the race, appearance, disability, illness, whatever. I wouldn't say that my husband and I have necessarily gone out of their way to impress this upon them, although it does come up occasionally. I suppose it has more to do with the area that we live in and the natural diversity that exists here. All of that to say that for those reasons, the girls didn't get why a group of people would be treated as they were. It was a good lesson on the topic of prejudice.
At the end of the guide is a set of questions for family discussion. I always love hearing my daughters' viewpoint on various subjects, and they never cease to amaze me with their understanding and perspective.
Our overall thoughts:
We really liked this guide, and my oldest has already requested other titles in the series. What a great way to use a movie as a teaching opportunity. We heartily recommend this one!
See what other crewmates thought
here
.

Zeezok Publishing
Z-Guide to the movies Kit Kittredge: An American Girl
https://www.zeezok.com/z-guide-to-the-movies
Price:
$12.99 - available as a download or on CD
Ages:
Elementary/Middle School
**I received a free download of
Z-Guide
to the movies
Kit Kittredge: An American Girl
in exchange for my honest use and review, with no additional compensation**