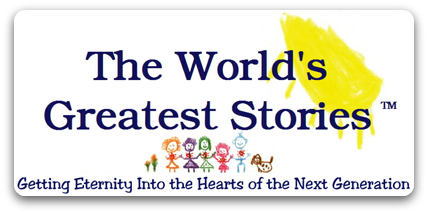 Audio stories are the best, don't you agree? I love using them as an alternative to television, long (or short) car rides, and for the kids to listen to as they fall asleep at night. If those stories are biblically based, that's even better, and that brings me to this week's TOS review.
The World's Greatest Stories are a wonderful collection of bible stories narrated by actor George W. Sarris.
No, that's not right. Narrated doesn't come close to being the right word. Mr. Sarris has beautifully and dramatically brought these bible stories to life in 6 different CD's:
Volume 1
-
The Prophets
Volume 2
-
The Life of Christ
Volume 3
-
Beginnings
Volume 4
-
Joshua and Esther
Volume 5
-
Joseph & His Brothers
Volume 6
-
Defeating Giants
We were delighted to receive and review
Volume 1 - The Prophets
, which features these bible stories:
The Blazing Furnace -
Daniel 3
The Handwriting on the Wall -
Daniel 5
Daniel in the Lion's Den -
Daniel 6
Elijah & the Prophets of Baal -
1Kings 17-18
The Prophecy of Jonah -
The Book of Jonah
These CD's work for ages 4 and on up, but our whole family was captivated by Mr. Sarris' storytelling. He affects such wonderful accents for the characters, and his take on King Nebuchadnezzar is simply marvelous. The little ladies couldn't contain their giggles.
What a great way to listen to the bible! You'll also be interested to know that these CD's are so affordable, only $7.95 each, making them a super gift for all occasions. This makes us really happy, because at this rate, we'll have the whole set very soon!
Check out the website for more information, and order a CD, or more, today!
See what other crewmates had to say about this product here:
http://www.linkytools.com/wordpress_list.aspx?id=120110&type=thumbnail
Greatest StoriesThe World's
http://www.worldsgreateststories.com/index.html
Ages:
4 and up
Price:
$7.95 each
Available in NIV or KJV versions
**I received a free copy of The World's Greatest Stories- Volume 1 for free in exchange for my honest review of it, with no additional compensation.**