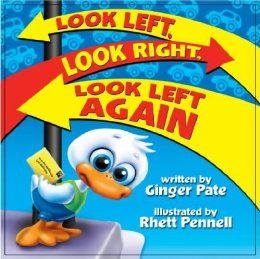 We received a very cute book to review this month, brought to you from
Greene Bark Press
.
Look Left, Look Right, Look Left Again
is a sturdy, well made, board book that teaches children ages 3-8 years old, how to safely cross the street.
If the adorable and colorful illustrations don't immediately invite your young child to flip through the pages, then the fun, tongue twisting name of the main character - Wally Waddlewater - certainly will!
Little Wally has made a birthday card for his grandmother, and he needs to mail it. But, he has to cross the street to get to the mailbox. He thinks he knows what to do to get safely across, but when Mama Waddlewater shows up just in time to keep him out of harms way, he finds out that he needs more practice.
Through fun characters and repetitive text, this book written by Ginger Pate, and illustrated by Rhett Ransom Pennel teaches traffic safety in what is sure to be an effective manner:
"Look Left, look right,
Make sure the
are out of sight.
Remember then:
Look left again."
I'm sure you're wondering if Wally gets across. You'll just have to get the book to find out, 'cause I can't give it all away!
I read this with my kids of course. They kinda sorta fit the age range. I have a 7 1/2 year old, a 9 year old, and a toddler who enjoyed this. The older two have already had traffic safety persistently drummed into them for quite some time now, and although they like to profess their maturity and how picture books are of no interest to them anymore, all I have to do is start reading to the little one, and all of a sudden, my audience is larger. (wink)
And that's just what happened here. Now, the toddler still is on the young side, but it's never too early to start teaching these important lessons on street safety. The general consensus - they all liked it!
Click on the links below to get a better look at this cute little book.

Greene Bark Press
Look Left, Look Right, Look Left Again
Ages:
3-8 years
Price:
$8.50
Click to
read more reviews
from the Schoolhouse Review Crew