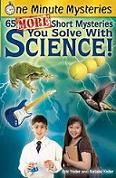 Well, we're moving into the end of May already, and as we wrap up the school year, it's nice to add something fresh and fun to our schoolwork. This latest review by
Science Naturally
was exactly what I was looking for.
As you can see by the title,
One Minute Mysteries: 65 MORE Short Mysteries You Solve With Science!
features mini science mysteries.
But there's no fancy schmancy equipment, tools, or materials necessary. All you need is the book and a little time. All of the stories were written by father and daughter Eric Yoder and Natalie Yoder. This book is just one of a series that they have created. Covering a variety of topics including Life Science, Earth and Space Science, and Physical and Chemical Science, they really do take only about a minute to read.
There's even a bonus section featuring a few Math mysteries!
I figured that it would be no problem getting my kids interested in this book. All they needed to see was the word "mystery" in the title, and they were really excited. They're hooked on mysteries these days, and we have all varieties of Nancy Drew, Trixie Belden, and similar titles all over the house to prove it.
The beautiful thing about this book is the flexibility it affords us. Seeing as they take so little time to read, we can tackle them anywhere- the car, the park, at a restaurant while we wait for our order, you know, wherever we happen to be at the moment! Read as many or as few as time and interest allows.
For us, it was never fewer ;) Every day that we read these, I heard, "Another!" The recommended age range is 8-12 yrs., but I enjoy them just as much (and I'm a lot older than that!) These brainteasers are fun and engaging, and the whole family has had fun figuring them out. You'll find the solution to each mystery on its back page.
I love that along with the science the girls are learning, they're also refining their critical thinking skills. And it doesn't feel like "school" to them.
You can check out some
sample mysteries
for yourself, and see what fun they are.
And here's a sweet little deal for you to take advantage of. Purchase 3 books for $19.95 ( plus $2.95 shipping + handling). Just use the code
3SPEC
when checking out.
Have fun investigating!
Science Naturally
One Minute Mysteries: 65 MORE Short Mysteries You Solve With Science!
Ages:
8-12 yrs.
Price:
$9.95
Click to
read more reviews
from the Schoolhouse Review Crew.