"Train up a child in the way he should go, and when he grows old he will not depart from it."
How often have we heard that verse from Scripture? I would think it is safe to say that while most of us agree with that text, it can be a challenge to put it into practice.
I know that I sometimes feel so inadequate for the task. How may times I have begun a devotional with the girls, only to let it fall by the wayside within weeks.
But onward I press, because I realize the importance of this task. Naturally, I was very interested in reviewing this bible course that became available to us through TOS Crew. It arrived in a nice, sturdy package. There's something so satisfying to me about a big thick textbook (yeah, I'm a geek ;)), and I was delighted to find not just one, but two beautiful big books- the main edition, as well as the teacher's edition.
I was ready to get going. Now, to read the instructions...hmmm...where were the instructions? I flipped through the first book. Nope, not there. Oh, of course , the teacher's manual ( the second book). Huh. Not much direction there.
It soon became clear to this intelligent homeschooling mom *cough* that this classically designed course would be left up to me to take the lead in a self directed kind of way. Take a breath...I tried to calm my breathing as the anxiety welled up within me. Self directed? AACK! I can't do this, I thought. Fortunately, this little panic attack was soon over, and I was feeling like yes, I can give this a shot. I do tend to prefer to have a "How to use this book" section, but I was ready to challenge myself and try something different.
So we got started. The beginning is full of well, as obvious as it may sound, introductions. There's your historical and political introduction, chronological introduction, geographical introduction, religious introduction, and daily life introduction, where we meet Simon. Sounds like a lot, and it is! But really, do not just gloss over this part and skip to Unit 1. There is so much great information to be learned in these first sections, and that includes you too parents!
The girls and I enjoyed the recap of The Garden of Eden and all that happened with The Fall, talking again about Moses and Pharaoh, the prophets, and how it all lead up to the coming of Jesus. We've had some very precious times as of late.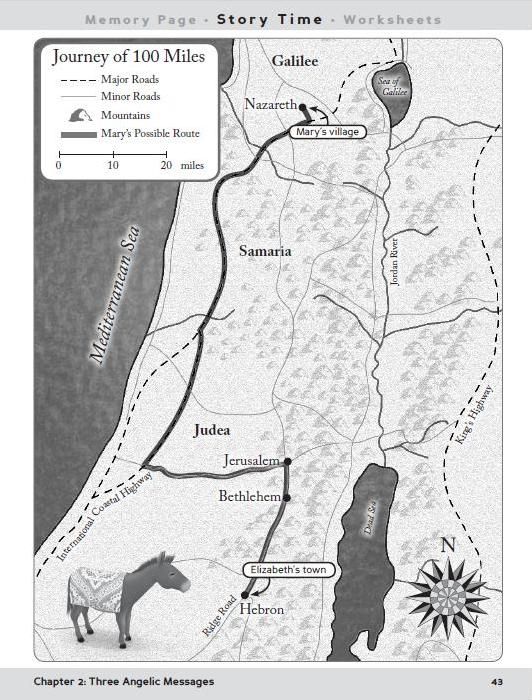 How it's laid out:
You read the text, you decide how much or how little you'll complete each day. You'll notice at the bottom of the page, various scripture references to look up after certain sections on the page. I have to admit that it overwhelmed me at first, I mean, there are a LOT of references down there, and I had no idea how I would ever accomplish this course.
I'm glad I persevered though, because I have personally learned so much already, and it's so worth it to take your time. We're homeschoolers, what do we need to rush through this for?
The teacher's edition is essentially the same book, the difference being that the teacher's book includes lots of space for your notes, and more background information to encourage discussion.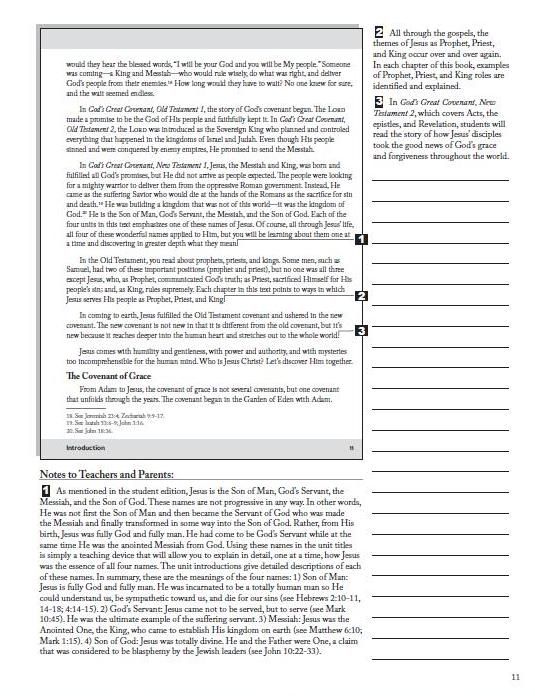 Okay, so here are the basics of the book:
It's divide into 4 units and 36 chapters which include memory verses, prophecy section, think about it questions, as well as worksheets and quizzes.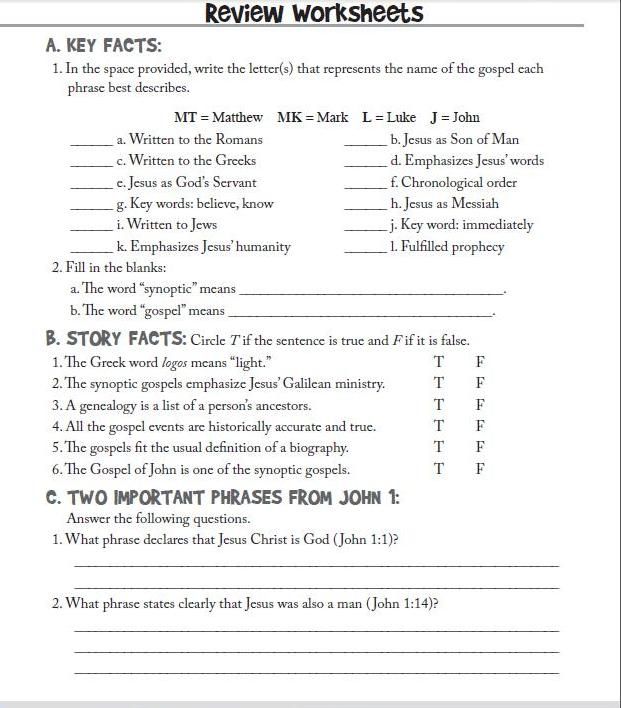 Who this course might be good for:
If you take a relaxed or Charlotte Mason type of approach to your education, you'll probably love this course. Lots of reading, lots of discussion, with you the teacher determining the discussion and schedule.
Who might not like this so much:
If you prefer a course that schedules the lessons for you in a very clear manner, with step by step directions, this may not be the right fit for you.
What my oldest thought/thinks:
She liked it. In her words- " I don't know how else to say it Mom...I like it." Her only negative comment - and it doesn't relate to the content really- was the length of the lessons. And that's something that we're able to adjust so...not so much an issue.
You can take a look at their website and see if this product might work for your homeschool.
And don't forget that you can also read about other crew members' experiences with this and other products at
TOS HOMESCHOOL CREW
God's Great Covenant
Price: $26.95
Age: Elementary
http://classicalacademicpress.com/
DISCLAIMER:
As a member of TOS Homeschool Crew, I received a free copy of God's Great Covenant and its Teacher's Edition in exchange for my honest review, with no additional compensation.