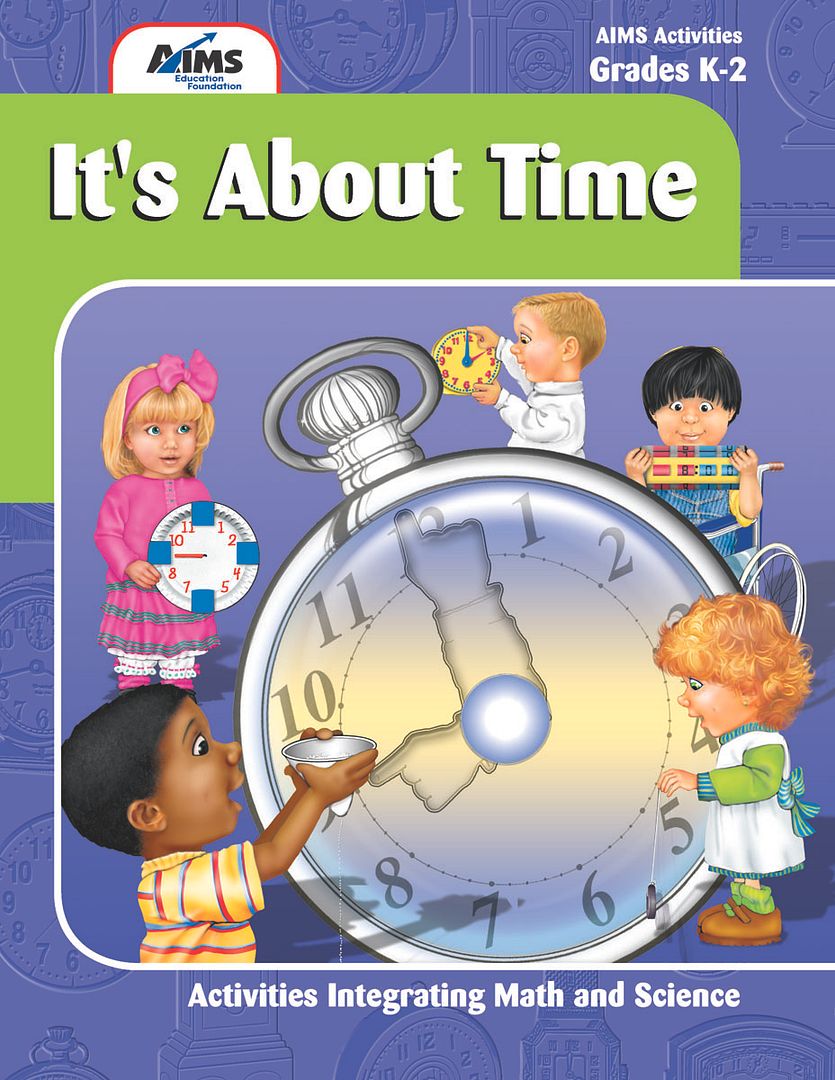 I'm pleased to be sharing another resource from AIMS Education Foundation with you. This is my second review product with the company, and this time, I've moved from Science to Math. But, just as I did with my last review of one of their products, I would like to share a quote that can be found within the first few pages.
I Hear
and I
Forget,

I See and
I Remember,

I Do
and I
Understand.
Those words capture the essence of the activity books that we've used in our family. Hands on.
I realize that there are different learning styles, but most children that I've had the pleasure of working with love to actively participate in lessons through games, projects, and all around hands on time.
And that is what I appreciate most about AIMS. They are all about child involvement.
It's About Time
is all about, as you might have guessed, learning to tell time. Forget about any stuffy lessons you may have experienced yourself as a child, because this book is filled with fun activities that will pique the interest of most children.
The target age range is K-2nd grade, and my girls fall right in the middle. An initial look through the book made me think at first that the beginning activities might be too easy for them, since they already had the basics of telling time learned.
I still decided to start with the first few lessons because I figured the review couldn't hurt. That turned out to be a good decision! The girls really enjoyed a variety of activities that help build the concept of measuring time.
We talked about and made lists of words relating to time - today, tomorrow, after, later, etc...
We made copies of picture cards from the book, acted out the activity, and sorted them into groups according to the length of time necessary to complete each depicted event.
Then there is one of my favorite ones...we made (copied) cardstock hands and taped them to a yardstick and ruler respectively, to represent the hour and minute hands. With numbersaround us in a circle, we (they) became human clocks. Cute! And effective. It sure beat the same old same old clock model.
Those are just a small sample of what is in
It's About Time
. There are a LOT of reproducibles, ideas for clock models to teach counting by 5's, minute by minute, elapsed time and more. There are some really cute games like "Time Out", which is really bingo, with the kids matching up the correct time.
Kids will practice telling time on wall clocks, digital clocks, wristwatches, I think you get the point.
Now, we of course are a homeschooling family, and used this book as such a family would. Generally speaking, the book is designed for the public school, with more group games, and story settings relating to that, but that wasn't an issue for us. I tweaked as needed, and the girls didn't notice.
I also found that the order and presentation of lessons made it simple to choose what I felt we needed to work on for a particular day. The book also includes a CD of some, not all of the reproducibles found in the book.
Overall, this proved to be a nice little resource for us. It was a refreshing change from the ho hum, and the girls enjoyed the variety included. More than worth stopping by their website and taking a peek.
The Homeschool Crew reviewed this and a few other
AIMS
titles. You can see what they thought by clicking
here
.
AIMS Educational Foundation
http://store.aimsedu.org/aims_store/
It's About Time
- Print book plus CD - PDF also available
Ages:
K-2nd Grade
Price:
$21.95
Disclaimer- I received a free copy of AIMS Education Foundation It's About Time in exchange for my honest review, with no additional compensation.