Well, you can't avoid it these days. The Internet that is. It's everywhere you know. I always preferred a physical book, resource, etc., to an online program. I never pictured myself surfing the web, blogging, or half of what I actually find myself using on the technology front these days.
Yet here I am, daily utilizing the wonderful world of the web, and there are some great programs and such to be found. But...as we all know, there are some pretty awful things as well. And that really comes to the forefront of your mind when you have children that use the computer.
How do you protect their innocence?
I have one possibility for your family. Action Alert. I was given a free download of the Maximum version of their program to review on our computer.
A winner of Disney's iparenting award and featured on NBC's The Today Show, Action Alert seeks to keep your child safe while online by blocking potentially harmful sites, and alerting you with texts and emails of computer activity. You can even shut down computer access if you suspect a problem from your phone. Cool!
It records up to 60 hours of all computer activity (including offline stuff), and allows you to view it.
And don't worry about your child outsmarting it, because the program uses encrypted codes like those used by government agencies. In fact, it will even notify you of any attempts to do so.
Here's a little visual of what Action Alert features.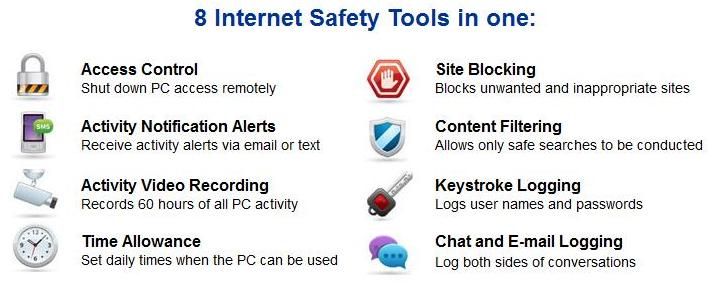 You can choose from two options:
1.) The Free version, which allows you the basic protection, and well, it's free! A great way to check it out and see what you think.
2.) The Maximum version, which also provides multiple user protection, customizable features, and social monitoring.
I'm ready to do my part to keep my children safe on the Internet. Now as for my family, we're still at an early enough stage in their lives where they don't have unsupervised computer time. They still have a sweet innocence as far as that goes, and I hope to preserve that for as long as possible. So, we haven't needed too much in the form of reports and alerts.
But, I feel better having put something in place now so when the time comes, we're hopefully a bit more prepared.
You just can't be too careful when it comes to the computer, and Action Alert offers a nice resource to assist you in keeping your kids safe. With a free version available, it's worth checking out. Visit their website today.
Action Alert
Price: Free for basic version
Maximum version- $29.99
* I received a free download of the Maximum version from Action Alert in exchange for my review of the resource.