Laissez les bon temps roulez! Or, to put it in plain English ;) - "Let the good times roll!" Introducing my daughters to the French language has me so excited! I absolutely love this language, so when I was selected to use
Le Francais Facile!
with them over the past month or so, I was happily shouting Oh la la!
What we've been using: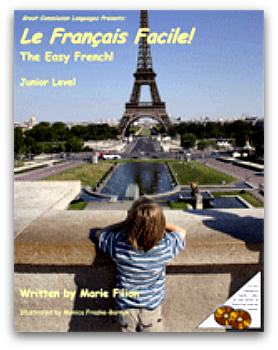 Le Francais Facile! (The Easy French!)
Junior Level
- for ages K-3rd grade
We received a thick, spiral bound book which includes 2 CD's, one of which has enhanced audio play, allowing you to listen over the computer, and also has a LOT of worksheets and extras to print off for your students. Within the first few pages is an exhaustive list of good resources, books and DVD's to expand your understanding of the French culture.
About the lessons:
Every lesson begins with an audio portion. The script is in both French and English, and repetitive enough to help the student get the basic idea of what is going on. Following the audio is the vocabulary for that lesson. Then it's activity time! I love the note that can be found throughout the lessons - "This curriculum was designed for you, not you for the curriculum!" Meaning...there are many activities to choose from, but you decide which ones will fit the time and interests of your children.
One of the ongoing activities that we have been doing is the C'est Moi! Livre (It's Me! Book) There is a page-sometimes 2- for each lesson, a page to color, something to draw, to extend the lesson. As the girls complete them, we put them in a binder, and they sure are proud of their work so far!
Also included in the lessons are 'cultural notes' about life and times of the French people, and sometimes recipes and games.
Our thoughts:
C'est Magnifique! We love this program! The lessons are fun and engaging, and is designed to work with a variety of ages. I have *some* experience with the French language, but a family with no exposure can do well with this also.
I really love that this curriculum allows me to print out what I need for each student, without having to purchase additional workbooks. That makes it a wonderful value right there.
The girlies are loving their increasing knowledge of the language. They frequently practice their vocabulary, and are now very aware of anything that suggests an origin of France. Their enthusiasm for this product speaks volumes of its effectiveness.
Visit Great Commission Languages at their website and see if this is a good fit for your family too :)
Great Commission Languages
Le Francais Facile! - The Easy French!
http://www.theeasyfrench.com/index.html
Ages: K-3rd Grade
Price: $69.95
Read what my crewmates had to say about this here --->
http://www.linkytools.com/wordpress_list.aspx?id=117829&type=thumbnail
**I received a free copy of Le Francais Facile! in exchange for my honest review of it, with no additional compensation.**