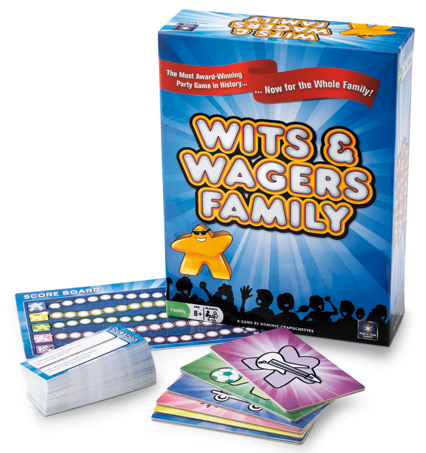 Alright game lovers, we've got a new one to add to Family Game Night.
Wits & Wagers Family
! If you're familiar with the original
Wits & Wagers,
you'll appreciate this simplified version that families can enjoy together. On the other hand, if this is the first time you've ever heard of it, let me begin by telling you what's included, and the basic rules.
First of all, here's what's included in the set:
150 question cards
5 dry erase answer boards
5 dry erase pens
5 large Meeples
5 small Meeples
1 dry erase score card
1 full color rules
Time to play, so decide how many people are playing. 3 to 10 may play, and you can play individually, or in teams. Next, after setting up the scoreboard in the center of the table - or floor - wherever you're playing, everyone takes turns guessing an answer from one of the question cards, and writing it on a scorecard. After everyone has guessed, the scorecards are sorted in numerical order from smallest to largest - all of the guesses are always numbers.
Time to make your guess! Take one of your Meeples and place it on the guess you think is the best answer, and that doesn't have to be your own. After everyone has placed their Meeple on the boards, flip the question card over and reveal the answer. The winner is the one who guessed closest to the real answer without going over.
The winner, or winning team, is the one who scores 15 points first. Super fun!
What we think...
We really like this game. The suggested age range is 8+ , but we found that our 6 and 7 year old were able to play as well. Because the idea is to guess the closest answer, there is a bit of leeway. It does help that the girls can read and write too.
And, everyone in the family found questions to identify with, whether it was "How many colors of Froot Loops are there?", or "How many Disney princesses are there?" We all had fun learning new bits of Trivia.
Sound fun? It is! Go get one and play it tonight!!
NorthStar Games - Wits & Wagers
http://www.northstargames.com/
Ages: 8+
Price: List Price is $19.99, but right now Amazon is offering it for the low price of $15.23 Nice deal, don't miss out :)
** I received a free copy of the game Wits & Wagers in exchange for my honest review of it, with no additional compensation.
See what my crewmates had to say about this game here -
http://www.linkytools.com/wordpress_list.aspx?id=111713&type=thumbnail