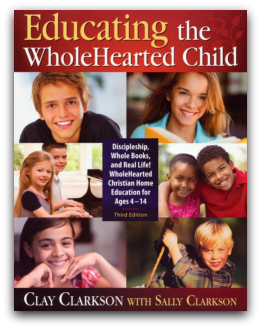 Discipleship, Whole Books, and Real Life! Wholehearted Christian Home Education for Ages 4-14
There's something about an Apologia book that feels like coming home. I realize that sounds corny, but, in this age of technology, with every computer and digital device available, I still love reading an actual, physical, great, big, good, book. And Apologia never disappoints me.
I admit it, I'm terribly biased. I love their books.
Educating the Wholehearted Child
has been no exception. This resource for homeschooling parents soothes my spirit every time I pick it up. Why? Because it is so Christ centered. The entire book is filled with the rich words from scripture, and as I drink it all in, I not only feel encouraged and inspired as a homeschooling mom, but my spirit is lifted, and I feel my perspective put back where it needs to be.
I want to tell you a little of what you'll find inside the book, but first a few words from the Apologia website:
God did not forget to include "school" in his biblical design for raising children&mdash:home education is a natural expression of all that God intended for parents and their children. Clay and Sally Clarkson's Educating the WholeHearted Child is about rediscovering God's original design for the family. What you'll find in this book is a homeschooling model that makes sense. It's an approach that is based on sound biblical principles of nurture, discipleship, instruction, and learning. Newly revised and significantly expanded, Educating the WholeHearted Child is about much more than homeschooling; it is about life. Effective Christian homeschooling must begin with the sure foundation of a Christian home, and the Clarksons' uncomplicated, common-sense approach to life and learning will provide you with the tools you need to experience God's abundant blessings for your family.
Alright then, let's get down to it. There is so much to this resource, and I wish that I had both the time and space to delve into it all. I don't, but that's okay, because then you'll just look forward to reading this one yourself :)
In the introduction and the first chapter, the authors talk about the decision to homeschool. They provide a list of biblical reasons to homeschool, they compare the experiences of attending public school vs. homeschooling, but at the end, they admonish the parents to make sure that they have counted the cost of this decision, and are certain that this is the right path for their family. I really appreciated that!
Moving on...The book is divided into 4 sections.
Section 1.) HOME
This part of the book includes determining what are the most important priorities of a christian home, how to answer those who disagree with your decision to homeschool, legislative questions and answers, and various ways to add character development to your home education.
Section 2.) LEARNING
Here you'll read about various teaching methods, and the importance of tailoring your approach to your child's needs. You'll learn how to make your home an inviting place to learn, and how to create discovery centers. You'll also learn about your childs' learning style, and overall, how to disciple him/her.
Section 3.) METHODS
Learn about MANY different ways to teach and encourage learning of the Bible, the three R's, as well as music, nature, history and more. One of my favorite parts of the book!
Section 4.) LIVING
What are the respective roles of the homeschooling father and mother? What are your priorities? What does your school day look like? How will you,or how do you, keep order within your home? Where can you find support in this homeschooling journey? You'll find out answers to these questions and more in section 4.
Every chapter has a little paragraph here and there called
In Our Home
. I like these a lot, because the Clarkson's give us little snippets of homeschooling as they do it in their home, kind of a tips and techniques kind of thing.
Another aspect that I find appealing is the margins of each page that contain various scriptures, quotes, and other useful information. They have wasted no space! ;)
At the end of the book is a delightfully lengthy appendix of resources to check out. There are also quite a few planning forms, some for chores, book reports, daily lesson plans, and general biblical values.
I cannot say enough positive things about this book. There are many good resources available for the homeschooling parent, but,
Educating the Wholehearted Child
is at the very top of my list as a MUST HAVE book. This is a book that, if you're anything like me, you will refer back to again and again, because believe me, you won't get it all the first time around. What are you waiting for? Go get a copy! :)
Apologia
Educating the Wholehearted Child
- third edition
Price: $22.00
http://www.apologia.com/
*Note: I received a free copy of
Educating the Wholehearted Child
in exchange for my honest opinion of it, with no additional compensation.
Read what other crew members have to say about this excellent book here
.
http://www.linkytools.com/wordpress_list.aspx?id=111243&type=thumbnail