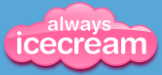 Calling all girlie girls!!! You will not want to miss this review, because it's just for you! Sorry boys, we'll catch you next time :)
I want to tell you about this really neat site created specifically for girls that we had a chance to review over the past month.
Always ice cream. Mmmm, I love that name, don't you? And I love their tag line too, which is...

Yummy. Maybe I should have eaten something before I sat down to write this. Oh well, anyway, as I said, this site was designed solely with girls aged 7-12 years old in mind. You might expect to see a lot of pink, and well, yeah there is ;), but there is so much more to this site than frou frou. It is, as the website describes itself, smart fun for girls. Okay, so what does that mean, and what will you find here? Glad you asked.
There are a lot of fun games that girls will love, love, love, like Pet World, where they may 'buy an egg', care for it, and wait for it to hatch. What it will hatch into is a surprise. (Our first egg hatched into a tortoise, which we named Larry.) There are all kinds of treats, activities and accessories which may be purchased with 'scoops'( get it? ice cream? scoops? :)), which are earned for playing learning games and watching educational videos. You can even buy super fancy homes for these virtual critters. This was probably the favorite of my little girls, but there's more.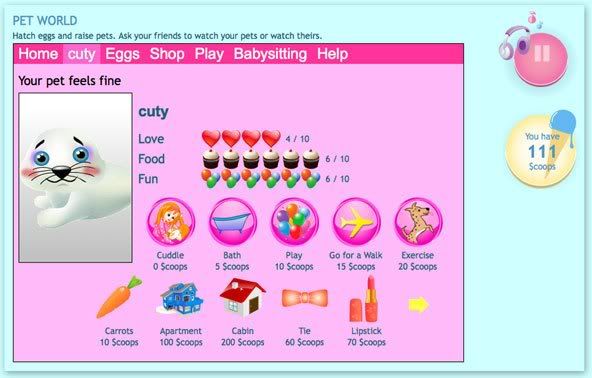 Visit mini world, where your little darling may choose a pretty place to live, which might be a cozy cottage, or a big, beautiful mansion. Again, using 'scoops', purchase different pieces of furniture, 'paint' them any color you want, design the room to fit your fancy, and even bring your pets from pet world to live there. My little lovelies always clamored to play with this one too, adding hearts, butterflies, and varying shades of pinks and purples to the walls and furniture. Pretty.
That covers some of the fun aspects of Always Ice Cream, now let's talk about some of the educational activities you'll find. Math, Language Arts, Geography, Music, Science, you'll find all kinds of learning games that cover these subjects. And guess what? They're fun! Does your daughter need help with addition? Practice her drills here. Language Arts? No problem. Play Melting Scoops (which plays like hangman), and guess the word before the ice cream melts. Practice Geography by clicking on the correct states as the names are displayed. (I love that one!) Make learning to type fun by clicking on the ice cream cones as they slide by. You can choose from slow, medium or fast speed. I found myself playing with that one to improve my own typing skills- hee hee.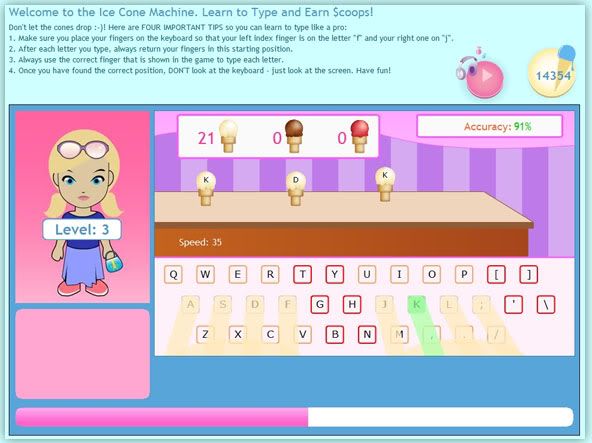 That's not even all of the fun games offered here. There is a christian section that quizzes your bible knowledge with some fun multiple choice questions. Parents will also appreciate the Internet safety section, which helps teach 'nettiquette', and online safety.
Safety. As a parent, I really appreciate the dedication to safety that Always Ice Cream has shown on their site. They have been certified by the Privo Privacy Assurance Program, so they are in compliance with the standards of the Children's Online Privacy Protection Act (COPPA). There are no ads, which could lead to questionable sites, parents are sent frequent reports regarding their daughter's activities, profile, progress, among other things. All content is monitored and moderated carefully.
Always Ice Cream also offers a social networking feature that is optional, when you sign up, you can decide if that's something that you want your sweetie to join. As I just mentioned, there are lots of safeguards in place to protect your child, as for us, we chose to skip that part and stuck to the games and learning activities.
What else? Well, there's so much fun to be had here, and I can only provide so much information in this little review, I just have to suggest that you trek over to their site, and try out some of the fun for FREE, and see what you think. Should you decide that yes, this would be a nice addition to your online activities, there are several membership options...
1.) Try a monthly subscription for $4.99 /month, with your first month only $.99
2.) 2 months membership - $9.98
3.) Annual membership - $29.99
4.) Lifetime membership - $99.99
Oh, and parents get a free membership with each subscription, so they can manage their daughters account.
So, our thoughts...We love this program! I found myself sneaking on so I could play! There is so much to do and learn here, and rather than being a program where each of my daughters was doing it solo, we were often crowded around the computer and enjoying the videos, word games, and all of it really, together. This is a great resource to have if you have girls within this age range. Two thumbs up all the way!
***I received a free lifetime membership to Always Ice Cream in exchange for my honest review of it, with no additional compensation.
Always Icecream
http://www.always-icecream.com/
For girls only :) Age: 7-12 years
Read other crew reviews of Always Ice Cream --> http://www.linkytools.com/wordpress_list.aspx?id=109546&type=thumbnail