I think that I've always enjoyed science. The hands on nature of the subject and all of the curiosities (is that word?) and possibilities are aspects that I love.
As a Christian, it can be a challenge for me to find a science curriculum or resource that not only generates an enthusiasm in my kids, but also stays true to our faith.
Library and Educational Services
is a wholesale supply company that, for thirty years has sought to do just that. They offer a variety of dvd's, books, cd's and more to enhance your homeschool.
This time around, my family and I had the opportunity to review two of their science dvd's
GO SCIENCE VOLUME 4
CHEMISTRY
STATES OF MATTER
LIFE SCIENCES
and
GO SCIENCE VOLUME 5
AIR
FLIGHT
Each of these dvd's is actually a collection of science experiment/presentations led by teacher Ben Roy.
Mr. Roy is a high energy kind of guy who knows how to engage his students and tv audience as he instructs them/us in a variety of fun, kid pleasing demonstrations.
Like what? Glad you asked! Volume 4 is the chemistry themed dvd. I have to be honest here- chemistry was never a favorite of mine, but maybe that's due to the fact that I never had someone like Ben Roy to make the subject come to life. These lessons are so cool!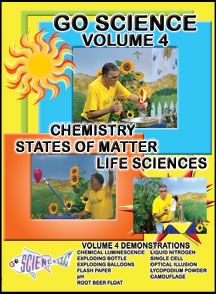 We learned how different gases put into different ballons can cause them to pop loudly, explode, and do next to nothing.
We learned about flash paper, and how ashes are formed.
We learned about illuminescence, and the way we can mix different chemicals together to make them glow - we all picked that as a family favorite.
Mr. Roy emphasizes safety during these experiments, and mentions when it is and is not an activity that should be attempted at home.
The second dvd is great too! In Volume 5, the theme is Air and Flight.
So we learned about the Bernoulli principle, and how even the big airplanes use this. This is one of the activities that was encoraged to be tried at home, using a funnel with a ping pong ball inside, which we were then told to try to blow up and out of the funnel-nnot necessarily as easy as it first sounds.
We also learned how a bottle can suck an egg into it, and how to callibrate a cartesian diver.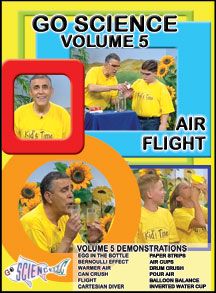 What I found to be a great feature of these science dvd's is the fact that each lesson is short and can easily be included into any school schedule to enhance a particular theme.
And getting back to the faith part of it all, I so appreciate the way Ben Roy takes an opportunity at the end of each demo to tie it in with the greatness of our God. He tells us that every science lesson is a chance to see His creativity. I really really like that!
There are quite a few other titles available, and this is where I direct you to the rest of the TOS Homeschool Crew to read about them
right here.
I also want to mention the wonderful ease we had in placing our order. It was so delightfully easy, and shipping was so prompt!
It was a pleasure dealing with this company, and I hope you check them out today!
Library and Educational Services
http://www.libraryanded.com/goscience
GO SCIENCE Series
Ages:
6-14 years
Price:
$14.95 each
Disclaimer: I received free copies of the GO SCIENCE dvd's Volume's 4 and 5 in exchange for my honest review of them, with no additional compensation.