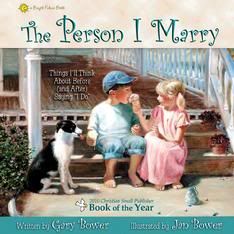 I have often joked that it will take a very special man to marry my youngest daughter - who is currently 6 years old-, and that I'm praying for that soul now. Of course I love my daughter, and I really love her vivacious personality, and it's all meant in fun. But, there is a good principle in there. I
should
be praying for both of my daughters. And no, it's never too early to begin praying for their future spouse.
I was very pleased to have the opportunity to review a beautiful book by Gary and Jan Bower called
The Person I Marry
. Here are a few words from Gary Bower...
This book is part of our "Bright Future Series" which shares Biblical principles for families in beautiful and down-to-earth ways. The Person I Marry was awarded "2010 Book of the Year" by the Christian Small Publisher Association. We created this book the year of our 30th anniversary as a tool for tenderizing the hearts of our own 12 children, and sparking comfortable conversation about marriage amongst ourselves.
This hardcover, 32 page book is simply beautiful, from cover to cover. Award winning artist Jan Bower has painted wonderfully lifelike pictures of children in various scenes for each page. My daughters actually gasped in delight when we first opened the book and flipped through the pages. My girls have always been enthusiastic readers, but I noticed that they were particularly captivated by this book. As I read it aloud, they were completely still and focused on each page.
As for me personally, I found The Person I Marry to be soul soothing, if that makes any sense. This was just a very restful book for me. I tend to be a more touchy feely type of person, and this was a book that fed my soul. I realize that I said this before, but again...beautiful.
The content, the theme of the book - choosing a spouse with specific qualities - was presented in a perfectly age appropriate manner. Written in rhyme, children can easily understand what qualities are important in a mate. For some of the harder to understand qualities, purity for example, the author did a nice job introducing the concept without presenting more information than a young child can handle.
Click on this link and get a glimpse of the book, as well as a few words from Gary and Jan Bower.
http://player.vimeo.com/video/20345737?title=0&byline=0&portrait=0
This 32 page hardcover is priced at $11.99, a great price for this lovely book. For the purpose of this review, I received an ebook form of the book, but I will be going out and purchasing a physical copy for our family. Once you take a peek, I'll bet you do the same :)
Happy Reading!
**I received a free copy of The Person I Marry in exchange for my honest review of it, with no additional compensation. **
The Person I Marry, by Gary and Jan Bower
-
Hardcover, 32 pages
Age: all ages
Price: $11.99
http://www.bowerfamilybooks.com/
See what my crewmates had to say about this book...
http://www.linkytools.com/wordpress_list.aspx?id=112792&type=thumbnail