Okay, so we're already moving into mid-September (almost anyway). How is your curriculum working for your children? Are you pleased with your program?
I find that it takes me several weeks to get into that "school groove". You know what I mean, don't you? There's a bit of an adjustment in working with any new materials, books, programs, etc., and seeing what works, and what needs a little tweaking.
So far, we've all been pleased with our educational choices, and the new material. One of the new programs that we've been using over the past month is an online program called BigIQkids.
What is it?
BigIQkids teaches children aged K and on up, Spelling, Vocabulary, Math, and U.S. Geography in a fun online interactive program. A versatile resource, it may be used as a teaching tool by itself, or as an enrichment to your current curriculum. Fully customizable ( not sure if that is actually a word, but humor me, will you? ;)), this is a program that you can use with your both your young enthusiastic student who flies through these subjects with ease, as well as your struggling learner who needs a slower pace, and perhaps a little more time to review.
How does it work?
Word searches, spelling bees, interactive maps, and a huge selection of games await your child. Take advantage of the pre loaded lessons and quizzes, or add your own to compliment your current studies.
BigIQkids is meant to be used daily, with each lesson taking about 10-15 minutes to complete. As an added incentive, with each lesson, game coins are earned and may be used to play a game when their work has been completed - my daughters' favorite part, to be sure!
Interactive "tutors" are part of the lessons, and provide the introduction, instructions, and corrections as needed.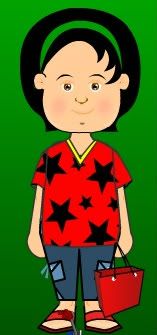 Your child also gets to create their own personal avatar, which was another highlight for my girls. They add the hairstyles, clothes, accessories, etc.. Fun!
Free vs. Premium
There are both free and premium accounts availablewith BigIQkids. When you choose the premium version, your child's progress is recorded, with regular reports emailed to you. A nice feature of this program is that your child only moves forward when complete mastery is achieved within a subject, so you never have to worry if the pace is too fast - or too slow for that matter.
You'll also notice that the premium version has little to no ads displayed - should that be an issue for you.
Our thoughts
Overall, my daughters loved this program. They love most everything that relates to the computer anyway, and if there is also the promise of a game involved, sign them up!
They liked the Spelling and Vocabulary programs well enough, especially the Spelling Bee. Another part of the Vocabulary that *I* like is that along with each word that is introduced, is also the synonym and antonym for that word, and then it is also used in a sentence.
The favorite subject for the girls by far, is U.S. Geography. They love working with the interactive map, which online tutor "Jake" helps with. They get to choose a state to learn about, take a quiz, and then click and drag to match the states with their corresponding capitols.
Now, no program is perfect in every way, and there were a couple of things that were a challenge for me.
As much as my girls enjoyed the U.S. Geography section, the interactive map proved to be difficult as far as the clicking and dragging aspects are concerned. We repeatedly had problems when the girls would have to click on a capitol and drag it to the correct state. They would get it to the right state, but there is a very specific spot on the state where it must be clicked on, or it is counted wrong. Consequently, several answers were counted wrong every time, which frustrated the girls - and me - because I watched them move it to the correct spot. I would then receive a progress report that expressed the need for improvement in the subject, while I knew they had indeed mastered the material.
That issue aside, my kids ask to do BigIQkids every day, and that speaks volumes to me. So, whether you need a little something to enrich and challenge your little learner, or if you just need a little extra tutoring, I would encourage you to check out BigIQkids and see what it can add to your homeschool studies.
***I received a free premium subscription to BigIQkids in exchange for my honest review of it, with no additional compensation.
BigIQkids
Ages: K and up
Price: Spelling and Vocabulary is free. Premium Spelling available for $7.99 a month, or $39.99 a month ($3.33 a month)
Premium Math available for $9.99 a month, or $49.99 a year ($4.17 a month)
Premium U.S. States program $39.99 a year
Go visit TOS Homeschool Crew homepage to see what other reviewers had to say :)