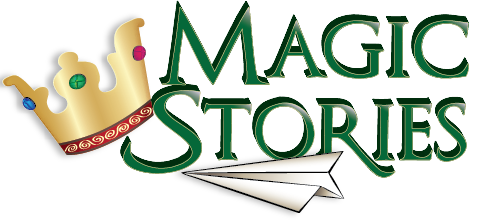 Hey parents, let's talk about reading. It's a subject that can be a huge source of stress for parents and children alike. Learning to read is an important educational milestone, and naturally, we want to see our kids succeed. This month, I had the opportunity to get acquainted with and review a supplemental reading program called
Magic Stories
, from Allsaid & Dunn, LLC., publishers of The Reading Game and authors of the Wordly Wise series.
What it is:
This set of six magical stories builds upon the foundation of The Reading Game program that is for grades K-1. If you aren't familiar with that resource and haven't used it, don't worry, it will not be an issue. These books, which were developed for grades 2 and 3, require no prerequisite. It is designed to be a supplement to a reading program for students that are already reading, with the goals being improved fluency, comprehension, and creative writing.
The stories:
1.) The Magic Hole - What happens to a Chinese family when a magic hole appears?
2.) The magic Ax - Strange things happen when a woodcutter's son receives a magic ax.
3.) The Magic Joke - A magic joke helps a king win a war in his kingdom.
4.) The Magic Hotdog - A boy experiences some crazy effects after eating a magic hot dog.
5.) The Magic Boots - Patty gets special pixy boots, but they are not what they seem to be.
6.) The Magic Box - Rumpelstiltskin and the king, a twist on the original tale.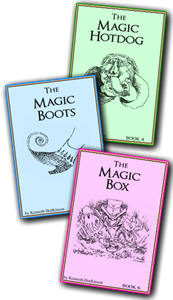 The Format:
The Magic Stories
are a digital product, and may be used on an ipad or your computer. If you prefer a physical copy (like me), this is a downloadable pdf. Each book is roughly 20 pages long, and comes with a list of more challenging words found in the story, called the "Naughty Word List". The text is large, making it easy for young students to read. There are black and white drawings on some pages that some of the more artsy kids might enjoy coloring. Staple the pages together to keep your books together like I did, or use a 3 hole punch and set them up in a binder, it's up to you. There are also worksheets that accompany all six stories to refine various reading and writing skills, including mazes, finish the story, finish the sentence, and an imagine page, which have writing prompts for the children to use.
But that's not all! The set includes printable flash cards, which show variations of the "Naughty Words" used in various contexts. These would look great printed off on colored cardstock! You might then use a separate color for each story set.
There are also assessment pages for parents to track progress. The
Magic Stories
website itself also offers free resources for parents, including other assessment pages. You'll also be pleased to learn that there are
instructions
available to guide you in implementing these stories. They can be found on the
navigation bar
on the website, as well as in the
Free Resources
section.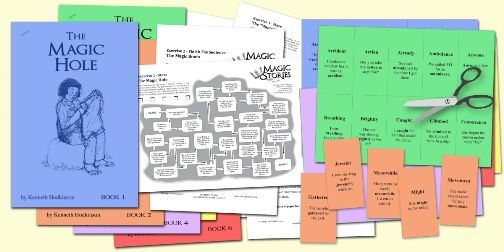 Drawings may be colored if you like.
An example of The Naughty 40
In Book 5, The Magic Boots, my daughter loved the line, "Meanwhile, upstairs in Patty's bedroom, she was running out of things to kick." I love that line too!
What do I think?
Well, my girls are now in seventh and eighth grade, so we're actually past the stage where we would utilize this resource, but I still love it! I've always been a fan of fairy tales and magical stories, and I can see this being a wonderful enrichment to a young reader's curriculum. And actually, my 7th grader enjoyed reading them! She giggled her way through the stories! In fact, immediately after completing them, she had suggestions about who in her circle of acquaintances would love them too.
So, if you like what you're reading here, and want to grab a set for your students, here's a nice deal for you.
Magic Stories
is offering a
25% discount
when you purchase these books. Simply type "raisingreaders" in the coupon box when checking out.
Practically speaking, with this being a pdf download, there's no waiting for the product to arrive. Set it up on your device, or print them out. So easy and convenient! I'm keeping this in mind to recommend to my friends and family with early elementary students. I hope you'll take a few minutes, and see what it's all about too! Until next time,
Find them on social media: